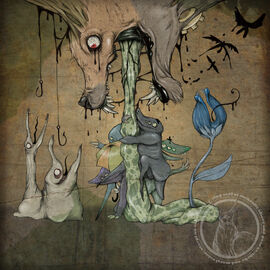 Slop is a 16-track album released under Jackal Queenston. It is the fourth full-length album released under the alias. The album started out (and was first released) as an EP, but then tracks from Robo and Down Here were added.
Track listing
Edit
Roborasta (4:46)
Return Of The Sound Man (4:55)
Wild World (4:19)
Just This Once (4:02)
Hardcore Stoppa (feat. Adraen) (4:36)
Down Here (4:04)
Take A Ride (3:11)
Root Snapper (3:06)
All Brawn (3:41)
Drunk Dragon (4:25)
Stitch (2:22)
Slop (4:39)
High Gear (3:51)
Rubber Band (3:36)
The Gambler (3:01)
Still Searching (3:05)
Release notes
Edit
all tracks written / produced / wobbled / etc by Jackal Queenston

artwork by Slug
Ad blocker interference detected!
Wikia is a free-to-use site that makes money from advertising. We have a modified experience for viewers using ad blockers

Wikia is not accessible if you've made further modifications. Remove the custom ad blocker rule(s) and the page will load as expected.