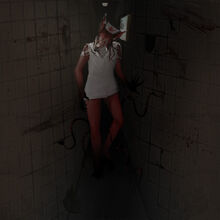 Silence
is a 22-track album released under
Renard
. In 2013,
a sequel album
was released under
Aurastys
.
Track listing
Edit
Down (1:40)
Bedsheets (1:25)
Soft Hands (0:49)
Down Further (1:20)
Be Still (0:17)
Closer (1:56)
Tear Apart (1:28)
Child's Cry (1:30)
SH01 (0:48)
The Love (1:38)
Time (0:40)
No More (0:38)
Antibody (0:55)
The Angels (1:15)
Grace (1:31)
Burning Wings (0:36)
No Way Out (0:19)
Nothing (0:34)
Hell's Blue (1:05)
Breaking Point (1:37)
Soft Hands Tear Apart the Angels (1:16)
Strange Turn Of Events (0:59)
Release notes
Edit
all "music" written and produced by renard. artwork by suguro.
Samples from a Youtube video, username:666 are used in the track No More. [1]
References
Edit
Ad blocker interference detected!
Wikia is a free-to-use site that makes money from advertising. We have a modified experience for viewers using ad blockers

Wikia is not accessible if you've made further modifications. Remove the custom ad blocker rule(s) and the page will load as expected.