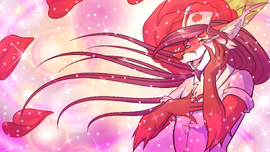 SHOUNEN BASS is a 5-track EP released under Renard.
Track listing
Edit
The ★☆★ 2NITE (3:43)
TWENTY-FORTY-Ⅷ (3:21)
Trip & Tumble (5:06)
(uᴥu) ⇨ TF (2:52)
*.BUDDY (3:47)
This marks the first LapFox Trax release with artwork by Squeedge since Ren and Squeedge began operating as separate entities, rather than as PSURG Design. [1]
The album art is a modified version of the artwork for the stepchart of NAMx (BOOTY HEAVEN MIX) from ON Trax Vol. 3: RELOAD. [2] [3]
The song (uᴥu) ⇨ TF is pronounced Pup TF or Dog TF, according to Ren. [4]
The physical release on CreateSpace includes several older Renard tracks; NAMx (BOOTY HEAVEN MIX), Believe in UR Butt, and FLUKE.
TWENTY-FORTY-Ⅷ samples the melody from Life Force.
Release notes
Edit
A RETURN TO THE LIKES OF "NAMX BOOTY HEAVEN RMX," "YOU GOT CURVES, SHE GOT CURVES," "FLUKE," AND OTHER WACKY DREAMY BASS MUSIC SHIT. DREAMSTEP? ROMANTICORE? TRAPPY HARDCORE? WHO CARES. SHOUNEN BASS! [5]
ALL MUSIC WRITTEN AND PRODUCED BY RENARD
RECORDED AT HALLEY LABS, APR 2014
MIXED & ENGINEERED AT HALLEY LABS, APR 2014
EXCLUSIVE LICENSE TO LAPFOX TRAX
ILLUSTRATION: SQUEEDGEART.TUMBLR.COM
DESIGN: R. QUEENSTON
Physical release
Edit
References
Edit
Ad blocker interference detected!
Wikia is a free-to-use site that makes money from advertising. We have a modified experience for viewers using ad blockers

Wikia is not accessible if you've made further modifications. Remove the custom ad blocker rule(s) and the page will load as expected.