I'll make it lighter for you...


This article contains NSFW material!
Proceed at your own risk.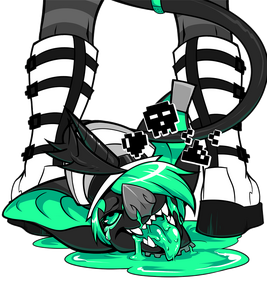 SHITSMEAR COLLECTIONS VOL. 4: FABULOUS TERROR INSTINCT is a 17-track free album released under ⇩LOAD.
Track listing
Edit
SAFEWORD 「SHITSMEAR」(1:49)
COCK OUROBOROS (3:13)
DISORIENTING SMACK MAKING THE WORLD GO FUZZY (1:54)
Is8h 11.2 (1:32)
SLOWLY TWISTING MY ARM IN THE DIRECTION UNTIL IT BREAKS (2:02)
TOTALLY TERRIFIC TENDON TEARING TERROR (4:05)
SCREAM AIMLESSLY INTO THE BLUE NIGHT (3:28)
GOLDEN ERA O' GOLDEN SHOWERS (2:12)
Is8h 12 (1:47)
THE BLACKER WE MAKE EACHOTHERS' EYES (5:51)
WAKING UP IN A CAGE ALONGSIDE A VICIOUSLY HORNY HELLBEAST (TAKE LIFE BY THE HORNS) (6:10)
CUM INFLATION DEATHMATCH (1:50)
FORESKIN FETISH FANTASTIC (WICKED WANG WORSHIP) (1:52)
Is8h 16.2 (2:24)
DISPOSABLE TRASH (OK) (2:22)
DOG HUSBAND, LIVING TOILET (3:08)
#00DD92 GLANS (1:11)
Release notes
Edit
all shit by ⇩LOAD 
illustration by squeedgeart.tumblr.com
#00DD92 is a hex code for light green, referring to ⇩LOAD's color scheme.
External links
Edit
References
Edit