Ruv 4 U How U Ruv
Released under
Album
Breaking Boundaries
Genre
Raggaeton
Length
3:26
Released on
26 September 2009
Era
VULPvibe
Price
Name Your Price
Artwork by
Squeedge
Lyrics
Link
Ruv 4 U How U Ruv
is a track released under
NegaRen
on the album
Breaking Boundaries
. It was originally released for free via the VULPvibe Free Bandcamp before being released onto
Breaking Boundaries
.
Release notes
Edit
some more fun... uh... happy hardcore dancehall raggaeton? from NegaRen! enjoy!
Composition
Edit
The track samples vocals from Major Lazer's Pon De Floor. [1]
Physical
Edit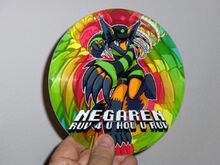 A single physical copy on Ruv 4 U How U Ruv was created in 2012 and sold on April 26th on the PSURG BigCartel store. [2] [3] It is a seven inch one-sided 45rpm vinyl disc and is meant as a test press for possible vinyl releases. [4] [5]
External links
Edit
References
Edit
Ad blocker interference detected!
Wikia is a free-to-use site that makes money from advertising. We have a modified experience for viewers using ad blockers

Wikia is not accessible if you've made further modifications. Remove the custom ad blocker rule(s) and the page will load as expected.