Rosewell (also known as Sullivan) is a hellhound that was originally created by Squeedge. He was initially created for the game DDDDx2:DD, which was later cancelled.
It is also unclear whether his real name is Sullivan or Rosewell. Squeedge once posted a drawing of him on her Tumblr account claiming his name is Sullivan, while on other websites his name is Rosewell. [1]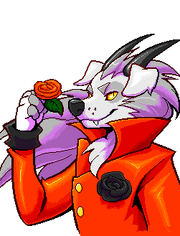 References
Edit
Ad blocker interference detected!
Wikia is a free-to-use site that makes money from advertising. We have a modified experience for viewers using ad blockers

Wikia is not accessible if you've made further modifications. Remove the custom ad blocker rule(s) and the page will load as expected.