Powerhaus is a track released under Azrael on the album Post-Apocalyptic Porn Groove. This song also appeared on Mungyodance 2
This song is well-known for its remixes from different aliases. A remix by JAQL was included on Monsters, and a remix by Klippa and Mayhem was included on ON Trax Vol. 3: RELOAD. An updated and remade version of the track was released by Azrael II on D.O.S. (Deadly Operating System), titled Powerhaus 2014.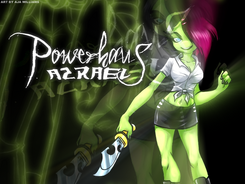 Ad blocker interference detected!
Wikia is a free-to-use site that makes money from advertising. We have a modified experience for viewers using ad blockers

Wikia is not accessible if you've made further modifications. Remove the custom ad blocker rule(s) and the page will load as expected.