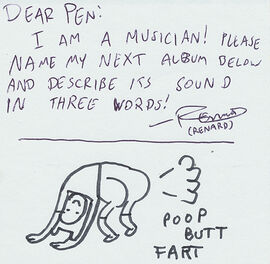 Pendleton Ward is the creator of the Cartoon Network show Adventure Time . He provided the inspiration and cover art for A PICTURE OF FINN FARTING by drawing a picture of Finn farting with the three descriptive words being: "Poop. Butt. Fart.". He also provided some vocals in the song "DON'T QUIT FRIENDS" by Renard on the album ROBOT BRAINSTRONAUT BLASTOFF!!!, this time Ren getting the inspiration from Andy Ristaino, another Adventure Time writer.
Ad blocker interference detected!
Wikia is a free-to-use site that makes money from advertising. We have a modified experience for viewers using ad blockers

Wikia is not accessible if you've made further modifications. Remove the custom ad blocker rule(s) and the page will load as expected.