Our Special Place is a song released under The Queenstons. Originally released as a free single in 2009, the song later appeared as the second track of the 2010 album The Revenge of Doctor Q. A remastered version of the song was included as part of the remastered release of the 2011 album Figurehead. In May 2013, a revised version of the song was released as a free single. This revised version was later added onto ON Trax Vol. 6 and the CD release of Lovely Galaxy Growing v0.9.
Composition
Edit
Our Special Place is written in G-major and B♭-major, with both keys being used almost equally.
Both verses are written in G-major. With the exception of an E♭-major, F-major, G-major progression on "This place is nowhere after all," the verses are sung over a synthesizer playing an arpeggiated G-major chord. Though the vocal part usually sings notes within the chord, it includes many non-harmonic tones. The melody of the second verse is slightly different than the first verse, with lower notes and more non-harmonic tones being sung.
The chorus is written in B♭-major, and can be divided into two parts. The first part of the chorus follows a G-minor, E♭-major, B♭ major, F major progression, played by a synthesizer in a swung eighth note rhythm. The second part of the chorus follows a B♭-major, E♭-major, F-major, C-minor, D-minor progression, played by the same synth sound, but much more slowly.
The entire chorus is sung once after each verse, with an extra two lines being added to the second part the second time the chorus is sung. After the second repetition, the first part of the chorus is repeated with a much higher vocal part for the first four lines. The vocal part returns to normal for the remaining for lines of the first part. The entire first part of the chorus is repeated yet again with a noticeably louder synthesizer in the background. The song then finishes with the slower synthesizer part from the second part of the chorus played without vocals or drums.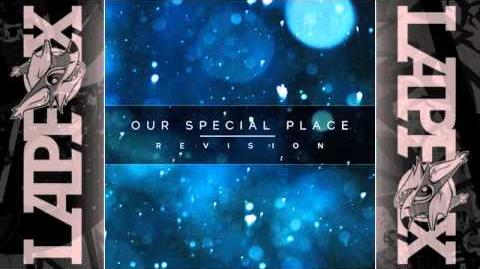 External links
Edit
References
Edit
↑ https://www.reddit.com/r/lapfoxtrax/comments/2dwy27/the_queenstons_our_special_place_instrumental/cjtvsds
Ad blocker interference detected!
Wikia is a free-to-use site that makes money from advertising. We have a modified experience for viewers using ad blockers

Wikia is not accessible if you've made further modifications. Remove the custom ad blocker rule(s) and the page will load as expected.