Old Undesirable Audio Files
Released under
Genre
Various
Released on
4 March 2012
Era
VULPvibe
Number of tracks
64
Price
Free
Artwork by
Squeedge
Mediafire
Old Undesirable Audio Files
Old Undesirable Audio Files
is a 64-track compilation released under
Renard
.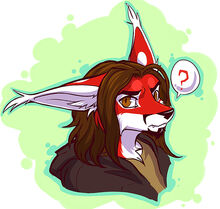 Track listing
Edit
Background
Edit
Old Undesirable Audio Files is a collection of VULPvibe Records era music, which was all discontinued after the change from VULPVibe to LapFox Trax.
The album is not an 'official' LapFox Trax release, which is why all songs are attributed to Renard, despite previously being attributed to other aliases. The quality of songs also varies, and the album was never released on Bandcamp.
Several songs on the album were remastered and rereleased on ON Trax Vol. 5 (Laugh at Life, I Am Sinistar, Rinse Out, Sleepy Eyes, You Can't Do This Underwater)
Ad blocker interference detected!
Wikia is a free-to-use site that makes money from advertising. We have a modified experience for viewers using ad blockers

Wikia is not accessible if you've made further modifications. Remove the custom ad blocker rule(s) and the page will load as expected.