The Mayhem Collection is a 100-run box set released under Mayhem in 2011. The set came with It's Murder and #BASEDSHARK CDs, as well as 3 pins, a sticker, and a card. [1]
Track listing
Edit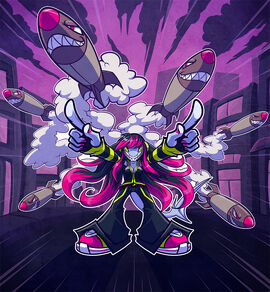 It's Murder Edit
Better Day (3:39) (lyrics)
Stylostyler (3:11)
Rescue (2:38) (lyrics)
Laugh At Life (Remix) (2:38)
Doctor Rocker (2:25)
It's Murder (2:32)
Tank! Tank! Tank! (2:22)
West Mansion (3:18)
Eggs (2:35) (lyrics)
Dum Dum Diday (2:25)
Nailgun (3:12)
120 Red (2:12)
How I Love (3:12)
Spinback (2:08)
Shockrocker (2:50)
The Crunch (3:01)
Don't Cry Jennifer (4:08)
#BASEDSHARK Edit
Nintendon't (4:51)
Raveopolis (3:29)
He Pukes Based Shark (4:09)
Scratch & Snuff (3:18)
The Queenstons - Humanoid (Mayhem Remix) (4:18)
Dan's Got A Fever (3:47)
I Am The Tower (4:14)
References
Edit
Ad blocker interference detected!
Wikia is a free-to-use site that makes money from advertising. We have a modified experience for viewers using ad blockers

Wikia is not accessible if you've made further modifications. Remove the custom ad blocker rule(s) and the page will load as expected.