Intensive Care Unit EP
is a 12-track name-your-price EP released under
Renard
. On September 23rd, 2010, the album was rereleased.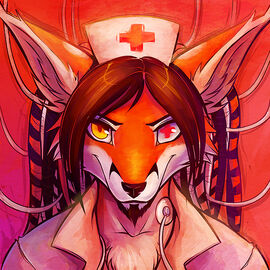 Track listing
Edit
Intensive Care Unit (2:18)
Gai Runs At 300KMh (4:04)
The Love (2:16)
Sam (1:16)
Get Back Up (2:08)
The Club (2:24)
Silverboxer (3:24)
Torn (1:16)
Shine (2:56)
Save The River Valley (2:56)
Terminal (2:40)
Forever (Early) (1:52)
Composition
Edit
The EP is made up of various Raggacore, Breakcore, and Happy Hardcore songs with clear defined synth melodies and vocal samples over a fast beat.
Release notes
Edit
Original
Edit
the unit that cares intensely for you. <3
all music written / produced / tracked / mutilated by renard and other imaginary people 

cover artwork by squeedgemonster
all samples stolen proper
Extended and Remastered
Edit
remastered and extended from the original release: http://vulpvibe.bandcamp.com/album/intensive-care-unit
all music written / produced / mixed / mastered by renard 
artwork by psurg @ psurgdesign.com
External links
Edit
Ad blocker interference detected!
Wikia is a free-to-use site that makes money from advertising. We have a modified experience for viewers using ad blockers

Wikia is not accessible if you've made further modifications. Remove the custom ad blocker rule(s) and the page will load as expected.