Everything is Better in Color is a 15-track album released under Emoticon.
Track listing
Edit
Brightness (3:21)
Inner Child (3:51)
Stars on Grey (3:09)
It's a Dream (2:17)
Bad Cheetah (2:49)
Bang! (2:16)
Eat This (2:29)
Throbulator (2:25)
White and Black (2:19)
X+Y (3:37)
Happy Pills (3:42)
Valentine (2:25)
Neverlasting Happiness (1:46)
Naturally Stoned (3:46)
Last Moment on Earth (4:16)
Physical release
Edit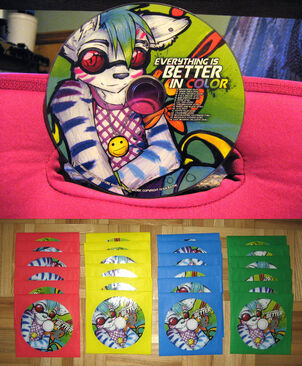 Ad blocker interference detected!
Wikia is a free-to-use site that makes money from advertising. We have a modified experience for viewers using ad blockers

Wikia is not accessible if you've made further modifications. Remove the custom ad blocker rule(s) and the page will load as expected.