Because Maybe! is a 20 track album released under Renard in 2010. It is the first album in the Best of LapFox Trax Nonstop Mix Series.
Track listing
Edit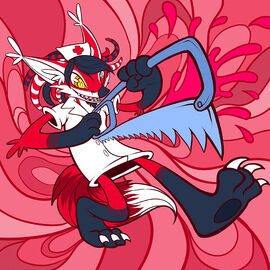 Go To The Party (3:29)
Dracula (2:56)
I'm a Blind Cave Salamander (3:01)
Sean Paul Opens A MFing Casino (3:20)
With Me (3:29)
Banned Forever (2:53)
Wrecka (1:49)
Team Murder (2:36)
NAMx (4:13)
Sinisterrrrrrrr (3:29)
Push Cycles (2:54)
Smoke Tower (3:14)
Spacedragonstyle Raggamissile (3:08)
Bumblefuck (2:06)
Fuck Your Rails,Too (2:20)
Dear Spark (2:56)
Chelsea Smile (2:40)
Let's Move (3:29)
TU4AR (2:23)
The Entire World (3:39)
Release Notes
Edit
originally released as a very limited run of CDs at Anthrocon 2010, the demand for this release (despite it being nothing new as far as the tracks on it are concerned) has been high since earlier this summer. here it is in full (in digital format, natch) for free, because you guys wanted it so much!
all tracks were beefed up for this release, packing more punch than ever before! the album is a nonstop hour-long DJ mix, so be sure to play it back in something that supports gapless files (or just download the lossless version).
contains tracks from lapfox.bandcamp.com/album/trauma +
vulpvibe.bandcamp.com/album/killer-bee-attack-force-2 + vulpvibe.bandcamp.com/album/come-get-some + lapfox.bandcamp.com/album/post-traumatic-stress-disorder
enjoy!
all music written and produced by Renard  
artwork by PSURG @ psurgdesign.com
Physical release
Edit
Ad blocker interference detected!
Wikia is a free-to-use site that makes money from advertising. We have a modified experience for viewers using ad blockers

Wikia is not accessible if you've made further modifications. Remove the custom ad blocker rule(s) and the page will load as expected.