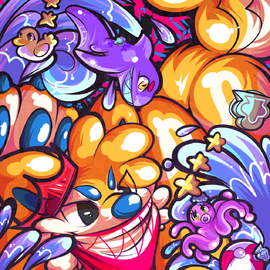 BAD_COMMAND is an 11 track album released under the alias BANDETTO.
Track listing
Edit
higher higher higher (2:51)
nova fire (2:51)
scale the skyscraper friendship (feat. BUYO) (4:37)
headrockin (2:41)
walker kingdom (2:14)
the puff (2:24)
sky above (3:05)
scale the skyscraper friendship rmx (feat. BUYO) (3:46)
the puff (Mayhem rmx) (4:11)
walker kingdom (demo) (2:15) (Bonus track)
nova fire (demo) (1:54) (Bonus track)
Physical release
Edit
The physical release of BAD_COMMAND included extra tracks taken from ROM OK! ★ R U OK 2? and SLIP'N'SLIDE.
The voice sample in sky above, "Reach up, to the sky above", was sampled from Tantrum Desire - Reach.
Ad blocker interference detected!
Wikia is a free-to-use site that makes money from advertising. We have a modified experience for viewers using ad blockers

Wikia is not accessible if you've made further modifications. Remove the custom ad blocker rule(s) and the page will load as expected.