Anxiety
Released under
Album
Don't Stop Moving
Length
3:59
Released on
14 November 2011
Era
LapFox Trax
Price
Free
Artwork by
Squeedge
Bandcamp
Anxiety
Anxiety (feat. Klippa) is a track released under Jackal Queenston on the album Don't Stop Moving.
Composition
Edit
Anxiety's theme is quite upbeat throughout, despite what the aliases would imply (usually darker tones). The song starts off as a Klippa styled track, but picks up tempo near the end for a transition into a heavier Jackal Queenston styled drum and bass portion.
The font used on the single art is SharkBoy and LavaGirl.
The track was composed entirely in Sony ACID and uses no VST instruments, but many VST effects and samples. [citation needed]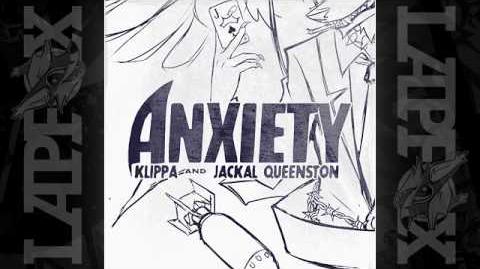 Ad blocker interference detected!
Wikia is a free-to-use site that makes money from advertising. We have a modified experience for viewers using ad blockers

Wikia is not accessible if you've made further modifications. Remove the custom ad blocker rule(s) and the page will load as expected.