Adventures With Tweesee is an 8-track album released under Darius and Rotteen.
Track listing
Edit
Why Wolves (1:45) (lyrics)
Wild Dog Watching (6:02) (lyrics)
Everblossom Train (5:22)
Mars Needs Ravers (6:51) (lyrics)
I Built The Tower To God With Motion (3:46)
Wilted Weeping PCB (5:11)
Two Cirrate Cubiforms (5:19) (lyrics)
Intimate With The Fire Bird (7:12) (lyrics)
Release notes
Edit
all music produced by Darius + Rotteen
design by Ren Queenston
illustration by Trash @ furaffinity.net/user/trasheater
RECORDED AT HALLEY LABS, DEC 2014 - JAN 2015
MIXED & ENGINEERED AT HALLEY LABS, JAN 2015
Album Stream notes
Edit
for a long time, psytrance kind of bored me, but what i did appreciate about psychedelic music in general was the sense of adventure and scale. almost without consciously thinking about it, i created Intimate With The Fire Bird in a single session, and ran with the idea of an epic, desert planet psytrance adventure with an african wild dog as the guide. it ended up being a huge turning point for me, and helped me explore what i can really do when it comes to mangling audio. [1]
A limited edition shirt was released to coincide with the album release, as with all recent releases.
A limited edition set of 70 CDs with signed posters was released on February 23rd, 2015. A second press of CDs were released on July 7th 2015.
I Built The Tower To God With Motion was originally released as a free track on the Lapfox Trax YouTube channel only credited to Darius. [2]
The font used for the album title is Streetbrush [3]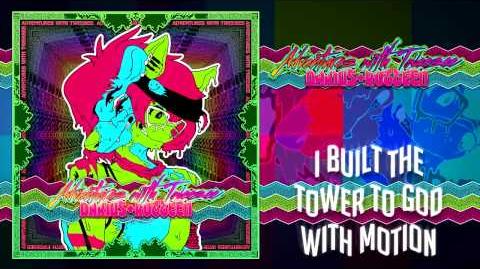 Physical release
Edit
See also: Tweesee Box
External links
Edit
Cover gallery
Edit
References
Edit
Ad blocker interference detected!
Wikia is a free-to-use site that makes money from advertising. We have a modified experience for viewers using ad blockers

Wikia is not accessible if you've made further modifications. Remove the custom ad blocker rule(s) and the page will load as expected.