♞ (also known as Knight) is a 12-track album released under RQ. It is the first release under the RQ alias.
On June 6th, 2017, the album was updated to have a different album cover, with a more similar resemblance to the physical releases of the album.
Track listing
Edit
♫ Ⅰ/ ❤❤❤  (0:01)
♫ Ⅱ/ The SALON (3:01)
♫ Ⅲ/ MY H☢T WIRES (3:07) (lyrics)
♫ Ⅳ/ ✊FIGHTER✊ (1:57)
♫ Ⅴ/ NICE C☹NFUSION (1:24)
♫ Ⅵ/ SPEAK ⇧ BUDDY (3:30)
♫ Ⅶ/ THE DEMONS (1:21)
♫ Ⅷ/ ☈☇ [RUSH COIL] (3:35) (lyrics)
♫ Ⅸ/ PRINCESS♛THEME (1:27)
♫ Ⅹ/ ❶뿔 (2:37) (lyrics)
♫ BONUS/ ❶뿔 (NO-VOX YT) (3:14) (hidden track)
♫ TOOLS / ♞ ASSETS (8:28) (hidden track)
Release notes
Edit
thank you to the many that have influenced great change in my life and helped push me to express "me" properly. you know who you are. there are too many of you to list, and i fear that i may forget somebody. ♥
WRITTEN, PERFORMED, PRODUCED, MASTERED, ETC by RQ
VOCALS ON "❶뿔" performed by LAWLZY (www.lawlzy.com)
ARTWORK by ANJILA (flavors.me/anjila)
ALL AUDIO ON TRACK 11 "♫ TOOLS" IS OPEN FOR USE, APPROPRIATION, AND REINTERPRETATION WITHOUT PERMISSION. DO AS YOU WILL ASIDE FROM RESELLING THE AUDIO DIRECTLY.
SOFTWARE: Sony ACID Pro, OpenMPT / ModPlug Tracker, GoldWave, Har-Bal, Celemony Melodyne, AnalogX SayIt, E-Phonic Retro Delay, SonicCharge Permut8, SonicCharge Bitspeek, Native Instruments Guitar Rig 4, Kjaerhus Audio Classic Suite, Ichiro Toda's Synth1, AudioRealism Bassline 2, SonicCharge Synplant, Arturia V Collection, KORG Legacy Collection, Illformed Glitch 2, Antares Harmony Engine
HARDWARE: KORG microKORG, KORG Monotron Duo, KORG Monotron Delay, Roland Lucina, AKAI MPD26, Catalinbread Teaser Stallion, Behringer Ultra Tremolo UT100, Behringer Ultra Shifter US600, Biying Tri Reverb RV-10, Electro-Harmonix Voice Box, Electro-Harmonix Freeze, Roland DR-50 mic, Behringer UBB1002 mixer
"THE DEMONS" contains samples from "Gay Exorcism Caught on Tape, GAY DEMONS!" owned by the David Pakman Show and "Ikari II: Victory Road" owned by Data East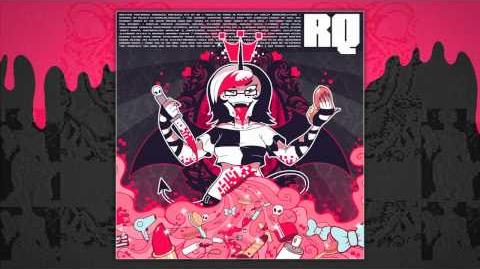 Physical releases
Edit
Ad blocker interference detected!
Wikia is a free-to-use site that makes money from advertising. We have a modified experience for viewers using ad blockers

Wikia is not accessible if you've made further modifications. Remove the custom ad blocker rule(s) and the page will load as expected.